About Al Tamyoz Business Group
Al Tamyoz Business Group, originated from Al Ansari Group is a premier business address in the state of Qatar. Established in the year 1978, the Al Ansari group has traversed spectacular and eventful years, fulfilling diverse needs of many prestigious groups and companies with our highly specialized know-how and expertise in the field. The enormous encouragement and support from the market inspired the group company to diversify its activities to form a chain of companies including Al Ansari International, Al Ansari & Partners Trading, Family Food Centre, Al Ansari Real Estate Investment Company, Al Tamyoz for Projects, Al Tamyoz Middle East and Perfect Trading.
Al Tamyoz group offers a full spectrum of MEP/HVAC Construction, MEP/HVAC /Civil Maintenance, Specialized Low Voltage systems installation/maintenance, Facility Management, HVAC Trading, Cleaning/Housekeeping services, Swimming Pool/Landscaping Maintenance etc. for customers across all area of Residential, Commercial, Industrial and Educational sector organizations.
Our Vision
To be recognized and respected by our clients and customers for our integrity, quality of service delivery, timeliness, professionalism and innovation in operating our business and providing a high quality service delivery.
Our Mission
To achieve Al Tamyoz's mission, we commit to:
Develop, implement, and continually improve upon a client-focused "One-Stop-Facility-Shop" business model.
Develop and implement a marketing strategy, which educates, differentiates, and promotes our business as "The Cost-effective One-Stop Building Services Contractor".
Identify, recruit, and hire employees willing to

Accept responsibility
Achieve pre-determined goals
Possess "ownership attitudes"
Make significant contributions towards implementing our vision.

Develop and continuously update employee-training programs to optimize employee growth, development, and employee contribution towards achieving our vision.
Be team-oriented, safety-conscious, and environmentally responsible in the office, on the job site, and in a client's facility.
CEO Message
Al Tamyoz Group, originated from the prestigious Al Ansari Group was established to provide affordable and high quality services in all the fields and a living atmosphere to people who stay far away from their 'own home'. Founded in 2005, the Real estate and Property Management division manages more than 2000 apartments, apart from villas and commercial establishments.
Later as part of vertical integration, the Group diversified into Facility Management Services, MEP contracting, ELV Technical services and HVAC trading. Presently there are five business segments divided into:
Al Tamyoz for Projects-Real Estate and Property Development Activities
Al Tamyoz Middle East WLL-MEP contracting
Al Tamyoz FMS- Facility Management Services and MEP/HVAC/Civil maintenance services
Al Tamyoz Technologies- ELV Design, Installation, Operation and Maintenance
Perfect Trading – HVAC Trading
The success of our companies can be attributed to our ability to continuously identify and quickly respond to the changing demands across the markets. Our core values of integrity, respect, rigor, involvement and quality in everything we do remain consistent. These values are embraced by our people and have played a major role in our success and will continue going forward.
Quality and integrity being the core philosophy of the Group, Management has developed and implemented a quality management system in compliance. Across the board we have implemented those processes and policies aimed to achieve and exceed the high standards we have set for ourselves. Our employees who are highly qualified, skilled and customer oriented transform our vision into reality.
We believe in the tremendous potential of Qatar and under the exemplary and able leadership of the country.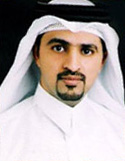 Jabir Abdulla Al Ansari
CEO, Al Tamyoz Business Group